Post by AlexK on Feb 12, 2019 11:36:59 GMT
Fan Configuration

With the release of 4.4.1 we gave the performance meter a facelift as well as some quality of life updates that expanded on features within the fan controller system. In all non-Amba rack server units, we use a fan controller to monitor and protect the unit from overheating. With 4.4.1 we have now added the ability to select from 3 fan profiles (Quiet, Normal and Safe) as well as monitor the heat sensors within the unit (1 is placed near to the CPU and another is close to the GPU.
How To Access The New Performance Meter:

If you open up the HippoNet pin tree you will see something similar to this:
Grab the Engine button and drag it onto a pinboard and you will now see the new Performance Meter.
All of the readouts have full graphs (BE AWARE: the graphs are heavy on resources and are not recommended in a live environment) that can be dragged out by grabbing the corresponding button and dropping onto a pinboard. The Fan Profile will drag out a drop-down bar (see below), here you will be able to set the profile (it may take a few seconds to react).
Further Advanced Configuration:

With the Karst/Karst+ the fan profiles may not make as much of a change to the noise levels as expected. This is due to the CPU fan being run separately to the installed rack fans. With the Karst(+) models being 2U, this doesn't leave much space for the noise generated to dissipate. Below is an advanced guide on how to reduce the noise of this fan. BE AWARE: This will decrease the heat dissipation for the unit and is not recommended if the unit is under heavy load or in a hot environment.
The below steps are for a Karst+, for a Karst please read this guide and then the below section on how to do on a Karst.
Step 1: Enter the BIOS as the unit boots by clicking the 'DEL' key whilst in post screens.
Step 2: You should be in advanced mode on entry, but if not go into advanced mode.
Step 3: Navigate to the Monitor tab and find the Q-Fan Configuration section
Step 4: Inside this menu, select the Fan Profile to be 'Silent'
Step 5: With that set, navigate to the Exit tab and select 'Save Changes & Reset'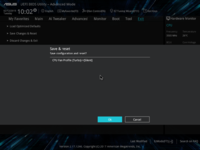 Step 6: With the settings saved, the unit will now reboot. The difference in volume should be easily noticeable.
Additional Information Regarding Karst's:

The general process is the same, however the Menu's will look different. Instead of the Monitor tab it is the H/W Monitor tab. You will then need to scroll to the bottom to find the Fan settings. You will then need to set them to 'Silent Mode'. Once this done you will need to Exit and save the changes.