Post by AlexK on Sept 20, 2017 12:06:14 GMT
Step 1:
Ensure that both devices (the Hippo and the device with the TouchOSC controller installed) are on the same network.
Also ensure that there are no firewalls blocking traffic between the two devices.
Step 2:
On Hippotizer go to Configuration and then add the "multicontroller" component.
On a new custom layout pin board, open the component pin tree and add the multicontroller pin board to the screen.
Step 3:
On the Controllers tab, select Add New Source.
From the drop-down menu, select OSC Input and select OK.
Select the new Control Source and select the Network Interface that the two devices are networked across.
Also set the Listen Port to the desired port (4000 in the default and works fine)
Step 4:
On the TouchOSC controller select the OSC Connection and set the following parts.
Host: The IP address of the adapter on the Hippo
Port (Outgoing): The port that the Hippo is listening to (the default is 4000)
Port (Incoming): Set to 4001
ZeroConf Name: You can decide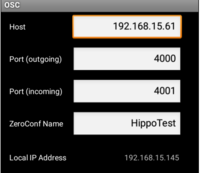 Step 5:
The connection between the devices is now complete so the next step is to create a custom layout to meet your needs. (This step requires the download and installation of TouchOSC Editor.)
Select the size and orientation of the control device.
Right click on the blank controller layout and add the button/faders needed (for this demo we will create a fader and a toggle)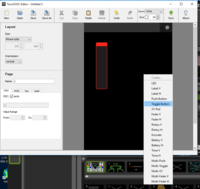 Step 6:
Back on the Hippotizer, go to the Pin Mappings tab.
Select "+ Pins" and add the components you wish to control (for this we will use the fader to control level and the toggle to invert the colours)
With both pins on the list, select them and click "+ Mapping" and then OK the Text Mapping option
Step 7:
Select one of the pin maps and copy the Mapping Text.
Take the copy text back to the editor and select the controller aspect it will be linked to.
Untick the OSC auto option.
Delete the text and add in the copied string from Hippotizer.
Ensure the Value Range is correct (Buttons are commonly 0-1 and faders 0-100)
Repeat for all controller aspects.
Step 8:
Save and name the layout on TouchOSC Editor.
Click Sync
On the TouchOSC controller go to Layout and then Add from Editor.
Select the Host and download.
Select the custom layout from the list.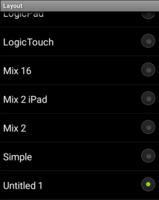 Step 9:
Your controller will now control the mapped pins.